Our top priority at Grace Outdoor is to provide clients with highly effective ads. Because billboards are so different from all other advertising mediums, designing can be a challenge. What looks great in a print ad won't always work well on a billboard.
Remember these two design tips: Billboard ads need to be readable from a distance and most viewers will have a short period of time in which to view the ad. Here is an ad example that wouldn't perform well on a billboard:

A designer can optimize an ad to work well on this unique medium by utilizing a few strategies, summed up in the acronym BASIC:
BIG, BOLD TEXT.
The bigger the better in most cases.
ATTENTION-GRABBING design.
You want your ad to be aesthetically pleasing.
SIMPLE message.
The fewer words you use in your ad, the easier it is for a viewer to read and retain the entire message.
IMAGE QUALITY.
You should use high quality, colorful images that flow well with your message.
CONTRAST.
You need high contrast between your text ad background to make your ad easy to read.
Here is an example of art that would perform well on a billboard:

The BASIC acronym tips are obvious in this ad. The text is big and bold, making is legible from a far distance. The text also has a higher contrast than the previous example. Instead of red text over a black background, this ad has white and yellow text over a black background, which creates more contrast. The Audi vehicle's background is removed and the image is larger, aiding to an attention-grabbing design. The quality of the image is also better. Instead of information overload, this example effectively shares what's important for potential customers to identify when passing by the billboard (who, what, where).
The ad design below personifies thinking outside of the box. Extending the car outside of the billboard face creates an attention-grabbing and appealing design that will be highly effective. Using an installation of lights to simulate headlights is a clever incorporation into the design, as well as a way to attract the viewer's eye far sooner than the average billboard. This design stands out from other billboard ads and will be memorable to a viewer driving by.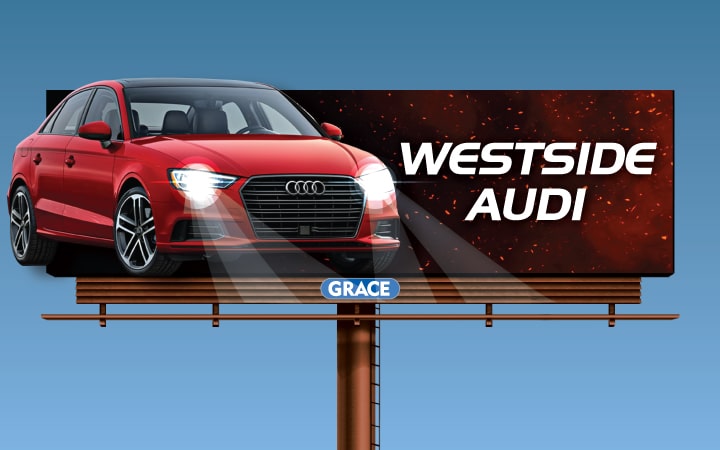 Keeping it BASIC while thinking outside of the box is the secret weapon to designing an effective billboard ad. If you're looking to drive traffic to your business then contact us. We specialize in delivering business messages to target audiences. Our in-house graphic artists are ready to create an effective ad tailored to your brand.
– Grace Outdoor Marketing Team